Regulatory Environments for Benefits Programs
Learning the U.S. laws and regulations shaping effective and compliant benefits programs.
India Pricing:
$810

Learning Mode:
E-learning
Help protect your organization from financial and legal risk by studying the vast U.S. employee benefits regulatory landscape and learning the specific laws and directives that shape effective and compliant benefits programs.
This course walks you through the many regulatory requirements in the benefits space, including the Employee Retirement Income Security Act (ERISA), the Internal Revenue Code (IRC), the Health Insurance Portability & Accountability Act (HIPAA), and the Affordable Care Act (ACA). You'll also discover risk-mitigating strategies to help minimize fines, penalties, loss of tax-favorable status and legal claims that could threaten your organization.
What You Will Learn
Learn to analyze how government regulations and laws influence the creation of benefit programs.
See how regulations affect retirement benefits, pay-for-time-not-worked programs and the development of health benefits.

See the tax implications for employers and employees in health and welfare plans.

Examine key issues with Section 125 and 129 Plans.

Learn the key components involved in administering benefits programs.

Who Will Benefit from This Course?
This course is designed for HR professionals in the U.S. who are new to the benefits field. It is also ideal for HR generalists or compensation specialists with limited benefits compliance knowledge who wish to expand their skill set.
Become a Member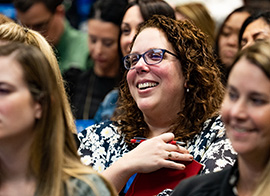 Members gain exclusive access to research, publications, networking opportunities and more!
Course Credits
WorldatWork Certification:
WorldatWork Recertification:
Course — 2 credits
Exam — 0.5 credits
CEUs:

Course — 1.6 credits
Exam — 0.9 credits
HRCI Recertification:
Course — 16 classroom hours

SHRM Recertification:
Course — 16 classroom hours
Policies
View our Return/Cancellation policies and more here.
Get started with this course
Contact today to register for this course and take your career to new heights with the latest and expert educational resources.