Executive Compensation Immersion Program
Overview
Learn who should attend and how this course can benefit you and your career.
Program and Schedule
See the course outline, including session content and timing.
Credits
See the number and type of credits you can earn by attending this program.
India Pricing:
$5760
Learning Mode:
Virtual
Fast, Comprehensive Learning That Gets You Moving
Entering or re-entering the high-risk world of executive compensation can be daunting: Grappling with taxes, regulations, program design, risk assessments, and communication with senior executives, board members, and compensation consultants can be overwhelming and difficult to master.
WorldatWork's Executive Compensation Immersion program can get you up to speed quickly, giving you a solid foundation in key concepts and best practices so you can confidently take on the roles and responsibilities that will propel your career forward.
Who Should Attend?
This course is perfect for anyone who is moving into executive compensation for the first time or who is returning after a hiatus and needs to quickly get up to speed on the latest trends and practices.
No prior knowledge of executive compensation is required; prior experience in compensation or executive compensation is helpful.
Course Program
Week 1: ECIP Foundation and Executive Compensation
Format: Five daily virtual (live) sessions held Monday through Friday.
Content: Learn the fundamental principles of executive rewards, including:
Strategy
U.S. taxation and regulations
Short-term and long-term incentive strategies and plan design
Performance measures
Supplemental benefits
Perquisites
Determining pay
Group discussions will cover judgment, ethics, and the ins and outs of a career in executive rewards. An open discussion forum and Q&A are held on Friday morning.
Week 2: Director Compensation
Format: One session, virtual (live), one hour
Content: Explore the roles and functions of the board of directors, along with the philosophy and trends that guide the valuation of director compensation. We will investigate how director pay is governed and use examples to analyze the impact of pay decisions.
Week 3: Preparing for a Compensation Committee Meeting
Format: One session, virtual (live), one hour
Content: Learn how to plan and prepare for a compensation committee meeting, including determining content, securing internal buy-in, understanding historical context, and working effectively with compensation committee consultants.
Week 4: Gaining Shareholder Approval
Format: One session, virtual (live), one hour
Content: Learn the processes for gaining shareholder approval and get tips for tackling the potential challenges of working with senior management, compensation committees and shareholders.
Credits
Upon completing the program, attendees receive the following professional development credits:
WorldatWork Recertification:
CEUs:
HRCI:
SHRM Recertification: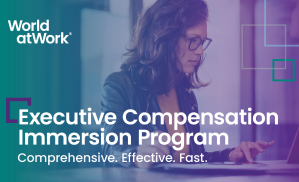 Meet Our Faculty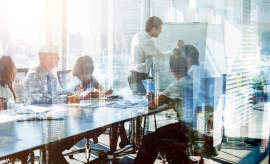 Meet our experienced and engaging faculty, who make even complex information interesting and easily digestible.

Why Should You Attend?

Fast, comprehensive learning. Global 500 companies rely on WorldatWork certifications to power their employee rewards, engagement and retention efforts. Our immersion program teaches you the key competencies you need to get started quickly. Be up to speed and running after only 35 hours of class time.
Outstanding content. WorldatWork is the global leader in compensation training and education, with more than 65 years of expertise honed through rigorous research, specialized certifications and deep industry connections. Our content is always practical, timely and topical thanks to teams of advisors comprised of industry-leading practitioners and expert consultants.
Engaging and experienced faculty. Your instructors will be drawn from our impressive faculty, who are fully invested in the subject matter, have significant practical expertise to share and excel at presenting complex information clearly and concisely.
Powerful networking. This course offers multiple networking opportunities, helping you form powerful career-enhancing connections with practitioners and industry leaders.

Policies
View our Return/Cancellation policies and more here.
Get started with this course
Contact today to register for this course and take your career to new heights with the latest and expert educational resources.