WorldatWork and NHRDN sign MoU strengthening collaboration to advance HR function in India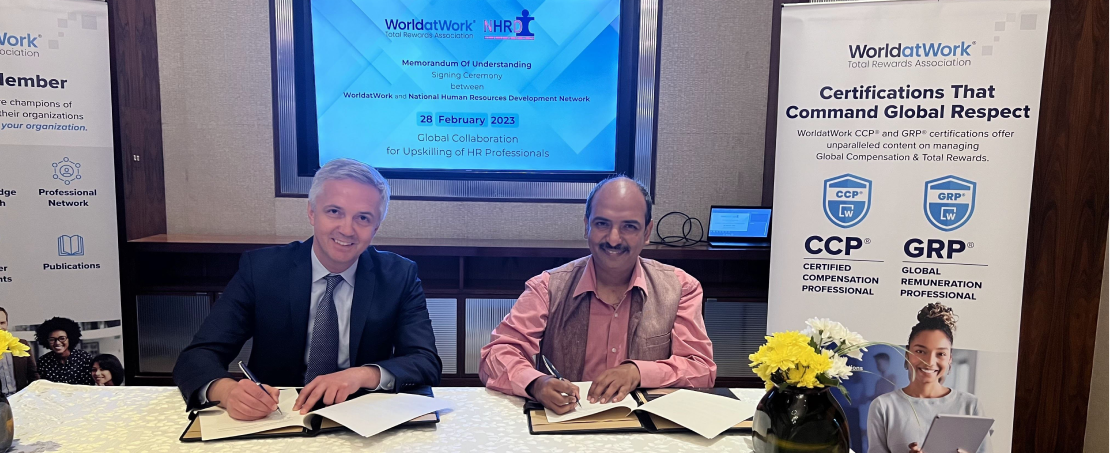 Pune, India — India's National Human Resource Development Network (NHRDN) has joined with WorldatWork, a global Total Rewards Association, to sign a Memorandum of Understanding (MoU). The agreement empowers them to help upskill the vast HR community across India together.
Their shared objective is to enable India's broader HR community to build the skills needed for today's changed global talent market. NHRDN members will have access to WorldatWork's exclusive learning resources and professional development programs, bringing their members unprecedented opportunities to advance HR practices through thought leadership, webinars and in-person engagements.
"We are excited to collaborate with NHRDN to help elevate the HR profession in India," said Mihai Popoaca, President of WorldatWork. "Our two associations are aligned in terms of vision and future goals, and we look forward to expanding this partnership in the years to come."
According to Sheetal Raut, Managing Director for WorldatWork India, "This strategic alliance will empower our community to grow by reaping benefits from the rich content, thought leadership and access to a global professional member network. This will make a real impact on India's world of work."
"Our strategic collaboration with a global association like WorldatWork, will enable us to further drive our commitment to promoting the HRD movement in the and enhancing the capability of human resource professionals in order to enable them make an impactful contribution to enhancing competitiveness and creating value for society." said Mr. Prem Singh, National President, NHRDN, President (Group HR), JK Organisation.
Through this agreement, and by tapping into the each other's vast member network, both associations will add value to the country's HR industry and community through thought leadership content and training.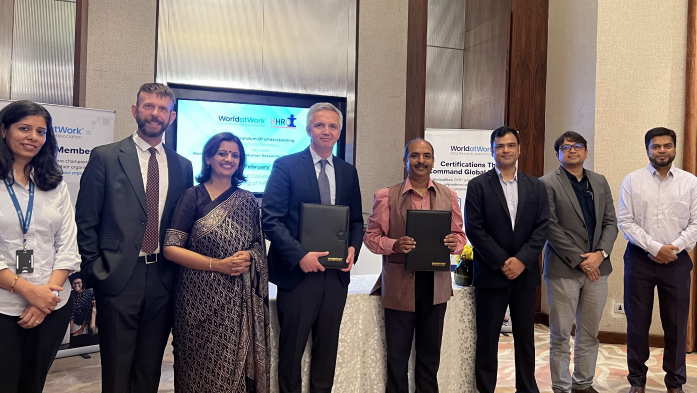 About WorldatWork
WorldatWork is the leading global nonprofit organization for professionals engaged in the critically important practice of total rewards. We serve those who are responsible for cultivating inspired, engaged, productive and committed workers in effective and rewarding workplaces. We guide them in the design and delivery of total rewards programs with our education and certification; idea exchange; thought leadership; knowledge creation; information sharing; research; advocacy; and networking. Professionals from 93% of Fortune 500 companies rely on total rewards education, certification and community support from WorldatWork. WorldatWork India has been in operation for two years with headquarters in Pune, India. For more details on WorldatWork, please visit www.worldatwork.org or follow us on Twitter: @WorldatWork and LinkedIn: @WorldatWorkIndia.
About NHRDN
The National HRD Network is the National Apex body of professionals committed to promoting the People Development movement in the country and enhancing the capability of human resource professionals to compete globally and thereby creating value for society. Towards this end, National HRD Network is committed to the development of human resources through education, training, research and experience sharing. Established over 36 years ago, NHRDN is autonomous, not-for-profit professionally managed organization, playing a catalyst role in grooming Leaders for Tomorrow. It has over 17400 members representing, Multinationals, Public & Private organizations including Government, MSME & NGOs spread across 33 Chapters in India 2 chapters in Singapore and Dubai serves as a reference point for people leadership in Indian Industry.

Resources for Reporters
Whether you need summary data from our cutting-edge research, or in-depth interviews with workplace experts who can translate complex ideas into cogent quotes, WorldatWork is your go-to resource. Contact us and let us help you produce a better article, blog, podcast, images, or video.